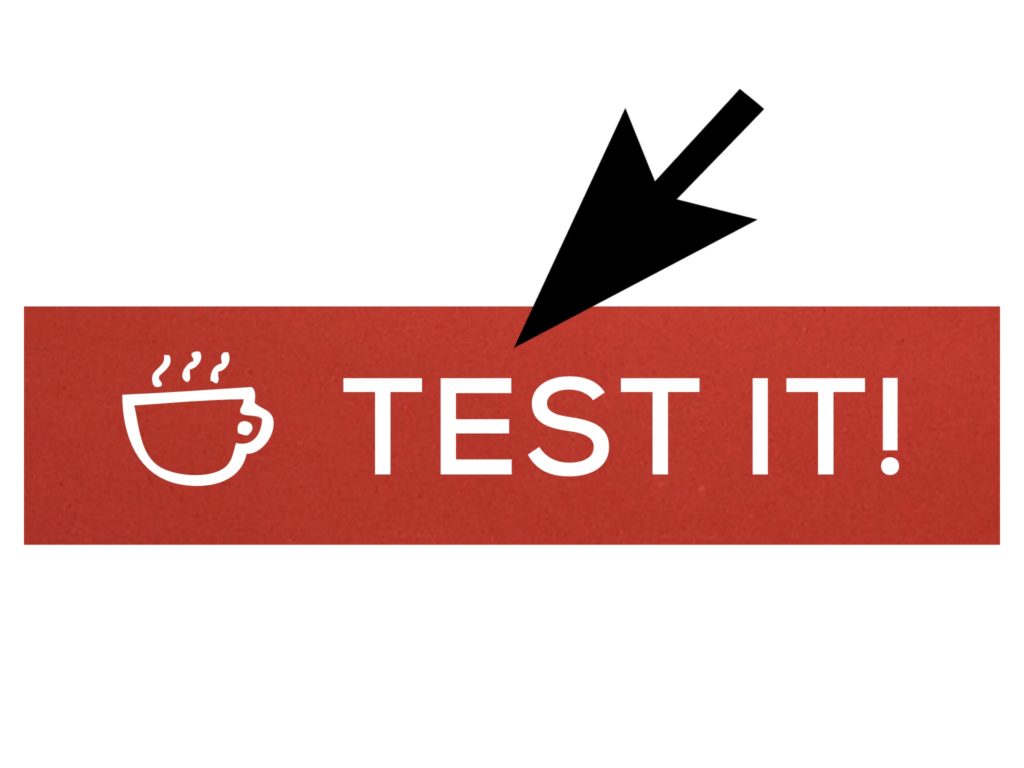 Click this! Download that! Sign Up! Let me email you every day for infinity!
Do some of these calls-to-action (CTA) look familiar?
Whether you have a website, or visit websites, calls-to-action — often in the form of a button — are unavoidable.
These call-to-action buttons are part of an organization's conversion strategy. When they're well-crafted, they can help increase engagement, client base and profits. Done wrong, they can make you look like a car salesman from New York … in other words, sleazy.
Conversion can be a tricky subject, but it's something that needs to be understood and utilized within every web design.
That's why we've created this series on website conversion, so you can have a better understanding of how you can implement conversion in a way that supports your business.
We'll get started with something you might not expect … testing.
But first, a quick definition of conversion.
What is Conversion?
Conversion is a strategy that takes a website visitor from where they are, to where you want them to go. For example, a visitor lands on your homepage, and the next step you'd like them to take is to call you. Or, if you're selling a product the next desired step might be for the visitor to make a purchase.
The type of conversion we practice here at Cuppa SEO is called "conversion optimization." According to Chris Goward, in his fantastic book You Should Test That!, conversion optimization "lives in the intersection of persuasion marketing, experience design, and the scientific method."
This particular article focuses predominantly on the scientific method — which boils down to testing.
Let's Talk About Website Conversion & Testing
We're often asked what best practices should be followed when creating a conversion strategy.
The #1 best practice is to be aware of the fact that there is no best practice! Every website is different, and every demographic of customers is different, too. So there is no one answer regarding conversion that will work for everybody.
But there is a constant that should be included in every conversion strategy. Testing. Specifically, controlled testing.
Beginning the Test
To start an effective controlled test, you have to pick ONE thing on ONE page to test. The reason for this may not be apparent at first, but if you're testing multiple things how will you know what change (or changes) your results are based on?
Testing one thing at a time, referred to as a controlled test, is the most accurate way to see if a conversion strategy is helping or hurting.
You can do this yourself, in-house, by adding a solid A/B testing plugin or app to your website.
Here's how it works.
1. You have an existing web page, let's say it's your homepage, that has been live at least for a few months. You currently have no call-to-action button on the homepage.
2. Your goal in adding a call-to-action to the homepage is simple: drive more people to the contact page where they will fill out a form, call or email you. For simplicity's sake, let's say you offer only one product or service — in this case let's choose dog walking.
3. Next, document how many people have visited your contact page in the past three months (as a minimum amount of time). You do NOT want to change anything on your contact page at this point (this would invalidate the controlled part of the testing). In addition to traffic, it would also be good to track (if possible) how many people either filled out your form (this should be trackable), called or emailed you based on their visiting your contact page (these can be a bit more ambiguous). Once your conversion testing is completed, you'll compare pre- and post-test metrics to see if your new page is performing better than the old one.
4. Add your button to the homepage, along with a brief, compelling tagline to help engage people. It could be something like:
Tagline: No time to walk the dog?
Button Copy: Click Here for Help!
(We'll get more into tagline and button language in a later part of the series.)
5. Now test it!
6. Since you have an A/B testing app attached to the page, what happens is that some visitors see the old homepage (sans CTA), and some see the new (with the CTA).
7. Over the next few weeks or months you can track how both pages are performing, and if the CTA is driving more people to your contact page. If it is, you'll probably want to make that your permanent homepage.
8. How long the test lasts will depend on your traffic volume. If you get 100 hits a day, a month-long test will give you about 3,000 test participants (some will be repeat visitors). That's a pretty good amount to base a test on. On the other hand, if you have 10-20 hits a day, you may need to leave the test running for 6+ months to attain enough volume to make an educated decision.
Helpful Hints
If you have a WordPress site, there are many A/B testing plugins you can use. Some of these are free, but that doesn't always mean they're good. Look for a plugin that has a good amount of positive reviews, as well as frequent updates. One of the best I have found is "Nelio A/B testing," which provides a lot of easy-to-digest analytics — which is the whole point of testing, right?
If you don't use WordPress, the process may be a bit more involved, but it should still be doable.
Remember to test one thing at a time! In the above case, if you determine that your homepage CTA is helping drive more people to your contact page, the next test may be updating the contact page itself to achieve better results.
As always, if you have questions or need help with your website conversion or web design, feel free to contact Cuppa SEO for a complimentary consultation.