Get Found on Google
What's the point of having a website nobody can find? If this question resonates with you, we can help with SEO services that attract more visitors to your website.
Search engine optimization (SEO) is a strategy that helps increase relevant traffic to your website by improving your site's ranking in search results. In other words, SEO makes it easier for the people who are searching for what you do to find you.
Our proven approach to SEO includes optimizing every nook-and-cranny of your site to ensure the highest ROI possible, so you're not just spending money on your SEO — you're also making money because of it.
How it Works
Our website optimization process is obsessively thorough, and includes:
The Questionnaire: Thorough keyword research is performed in a variety of ways, beginning with a detailed questionnaire that's completed by you and your team.
The Custom Keyword Report: Your keyword report contains a comprehensive list of optimal keywords we can utilize to optimize your website. The report clearly defines the best keywords for your industry, as well as the region(s) where you do business (local, national, global). It's also organized in a good, better, best format, making it easy to understand. A one-hour meeting to review the report is also included.
Optimizing Your Website Content: Once the Keyword Report is completed, the next step is for us to fully optimize your content. This includes optimization of your copy, imagery, title tags, meta descriptions and text links. You'll have the opportunity to review the optimized content, typically in a Google Doc, before we implement it into your site.
Implementation of Optimized Content: Once content is approved, one of our developers will implement everything into your site!
The Result
There's a lot more to our process, but we can discuss that over a cup of coffee. Let's switch our attention to results.
Here are a handful of before-and-after snapshots that detail the amount of increased traffic these clients experienced after we optimized each of their sites.
Widen

55% increase in traffic

That's an increase of 7,315 visitors (on average) per month
First Choice Dental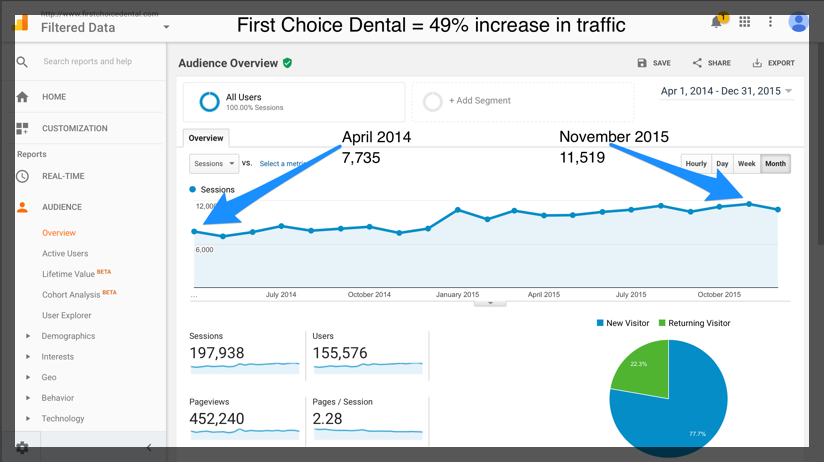 49% increase in traffic

That's an increase of 3,784 visitors (on average) per month
Lighthouse Healing Massage Therapy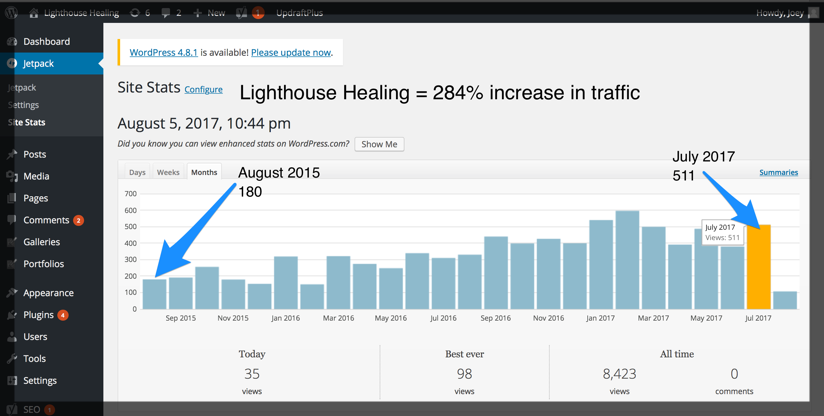 284% increase in traffic

That's an increase of 331 visitors (on average) per month
Are you ready for your website to get found?
Contact Cuppa SEO Web Design anytime to discuss your needs further.