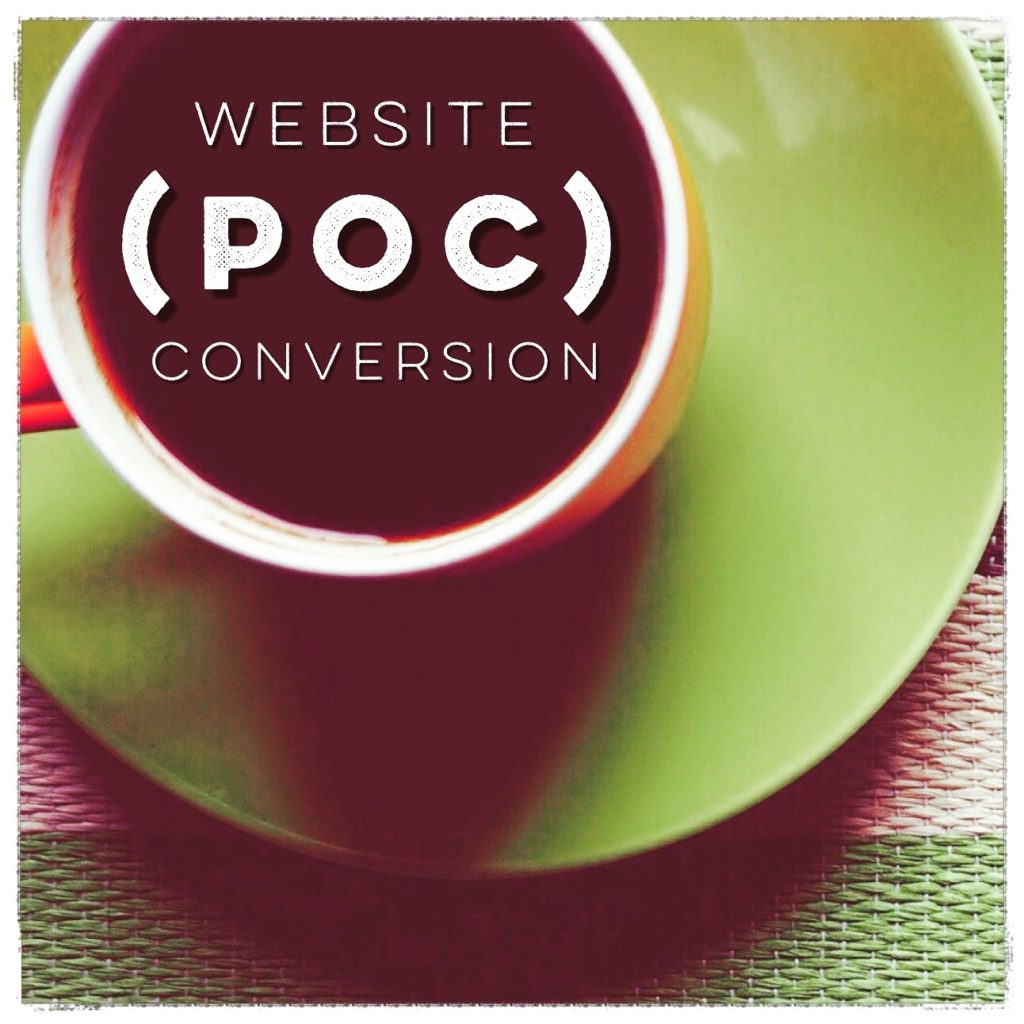 From a global view, conversion is clearly leading people from where they are, to where you want them to go.
Simple right? But once you dive in, there are a lot of pieces of the puzzle that add up to successful, or unsuccessful conversion (CV). Let's take a look at each of these pieces for a better understanding …
A Clear Intention: What's Your #1 Goal?
There's nothing random about leading a website visitor from where they are to where you want them to go. As you might imagine, it's quite the opposite, which means you need to have a very clear intention of what you want your visitors to do once they land on your homepage, subpage, squeeze page or blog.
This clear intention can only come from identifying THE #1 THING you want your visitor to do next after they've visited your site. Do you want them to call or email you? Shop? Your #1 thing should align nicely with your organizations #1 goal.
Using a dental office example, or any medical office for that matter, the #1 goal (call-to-action) is to get new or existing patients to call to make an appointment.
So, in this case, is a free giveaway like a dental health mini-book or a PDF of the top 10 ways to prevent caveties, in alignment with our #1 goal? NO. Which means in this case, and many others, free giveaways are not the best call-to-action (CTA). But we see it all the time right? Sign up for this, download that, watch our video. Often times, the goal here is to build a bigger email list with YOUR name on it!
Now IF, and only if, your primary goal is to build a big email list — again for a very specific reason — go ahead and focus on getting as many qualified emails as you can. But you better make sure you're offering excellent value for the price of handing over my name and email address. In an upcoming blog post, we'll talk all about the dark side of conversion, where signing up for ONE e-book can quickly become daily harassment from someone you never wanted in your inbox in the first place!
You get the point. Keeping your #1 intention in mind when creating your CTAs will help you be more focused, more successful — and remain on a clear path!
Make it Easy for Visitors to Take the Next Step
Notice how I said "next step," there, and not something like "getting your visitors further down the funnel." Keeping in line with our relationship-building philosophy, it's important to look at people as people — not as an object you push through a funnel.
So how do we make it super clear and easy for someone to take the next step in becoming a client or customer?
This is often accomplished through the use of well-placed buttons. But where do those buttons go, and what do they say? Here's an example …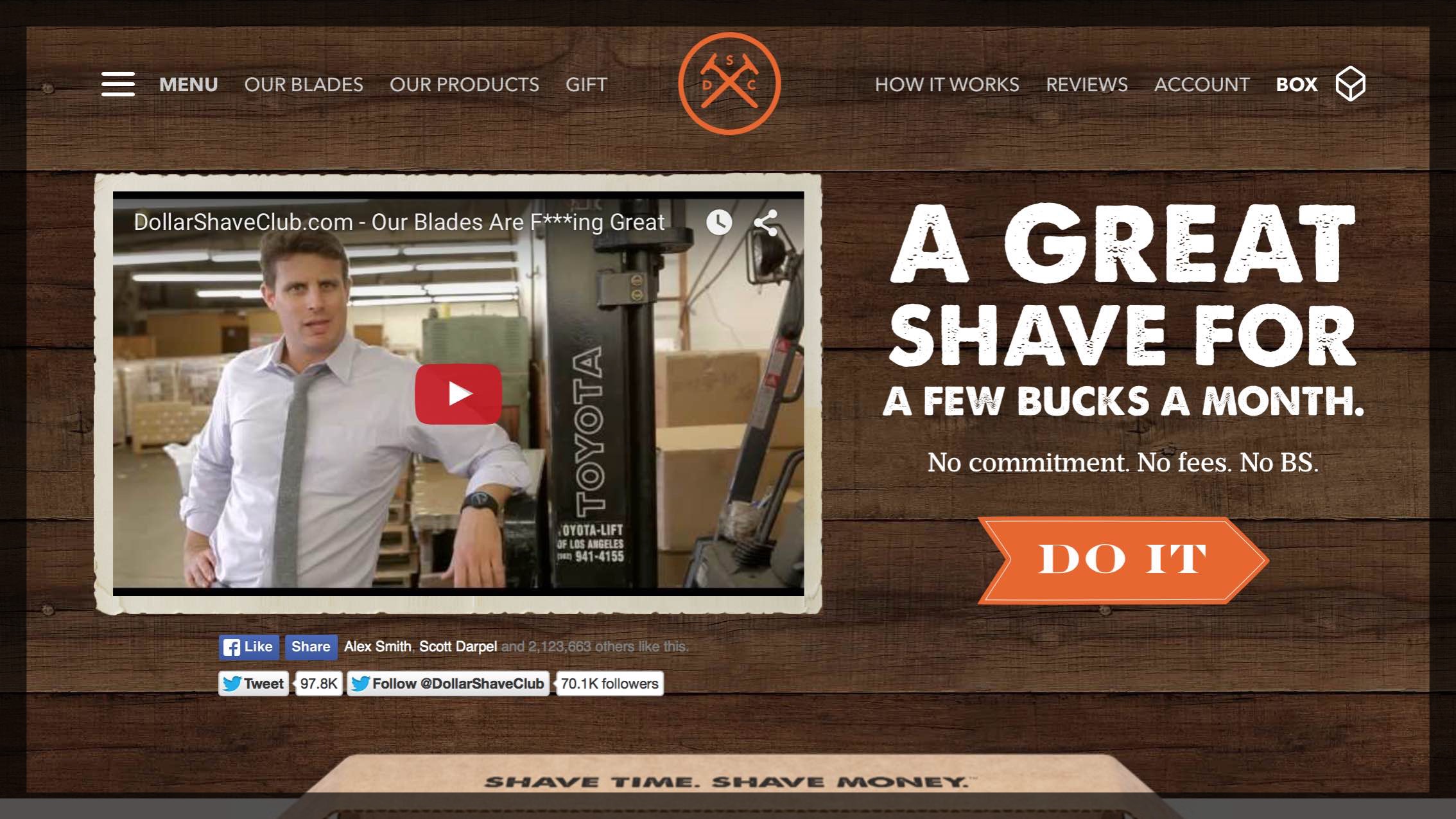 As you can see, in addition to the #1 CTA, "Do It," there's also a second CTA, which is the Dollar Shave Club video. Which leads us to the question …
What's Your #2 Goal?
Often times, we need a secondary, #2 goal in case our visitor is not ready to take action on our #1 goal. This secondary goal can often lead to a visitor taking action on our #1 goal, but without it, they might not engage at all.
Why is the video there? Think of it this way:
Your primary, #1 CTA is like the first date
The person you're talking to is ready to take action, to go out for dinner. In the case of Dollar Shave Club, this represents the "DO IT" button — I'm ready to buy, get out of my way! I'm sick and tired of overpaying for razor blades, I'm busy — and I am psyched that my friend told me about Dollar Shave Club — let's buy some blades!
Your secondary, #2 CTA is like the introduction
"Hi, I'm Joey, nice to meet you. Tell me a little about yourself." This is the part where you get to know someone enough to decide WHETHER OR NOT YOU WANT TO GO ON A FIRST DATE. The video accomplishes this because it does just that — It helps us get to know Dollar Shave Club, with NO commitment at all. Are they for me or not? Watch the video and find out.
Solve a Problem: Make it About Them, Not You
Just as with your website and blog content, your conversion strategy/CTA needs to solve problems. Put yourself in your customer's shoes and determine what their pain points are. Once you identify them — show me you can solve them.
It's easy to get caught up in explaining the awesome process you have, which makes your company so unique. I could talk for hours about all of the nuances of SEO and how we apply optimized content into every nook and cranny of your website. Most people don't care. If they're looking for an SEO expert, that means they want to be more visible in natural search results. Now if I say, "Cuppa SEO can help you get found on Google," I just let them know I can solve their problem — and I've told them in a succinct, easy to comprehend way.
If they're a tech geek like me, we can always talk more about the details later. But first, they need to know I can help remove their pain.
Place CTA Buttons Where They Make Sense
Not every page needs a CTA, but if it makes sense, place one there. If a button seems too intrusive, then insert a text link instead — in some cases, you might want to do both! In general, your homepage, squeeze pages* and subpages are good candidates for CTAs. Your blog is not. Try to leave that as your relationship-building place, and if you use a CTA, make sure it's a soft sell.
*What the Heck is a Squeeze Page?
This is a specialized page that's specifically designed as a payoff to your CTA. Although there will be times when leading someone to your contact or products page may be totally appropriate, other times call for a different solution.
For example, on my SEO services page, I have a call-to-action, "Contact Us About Your SEO Needs" that leads to a minimalist squeeze page:
Squeeze Page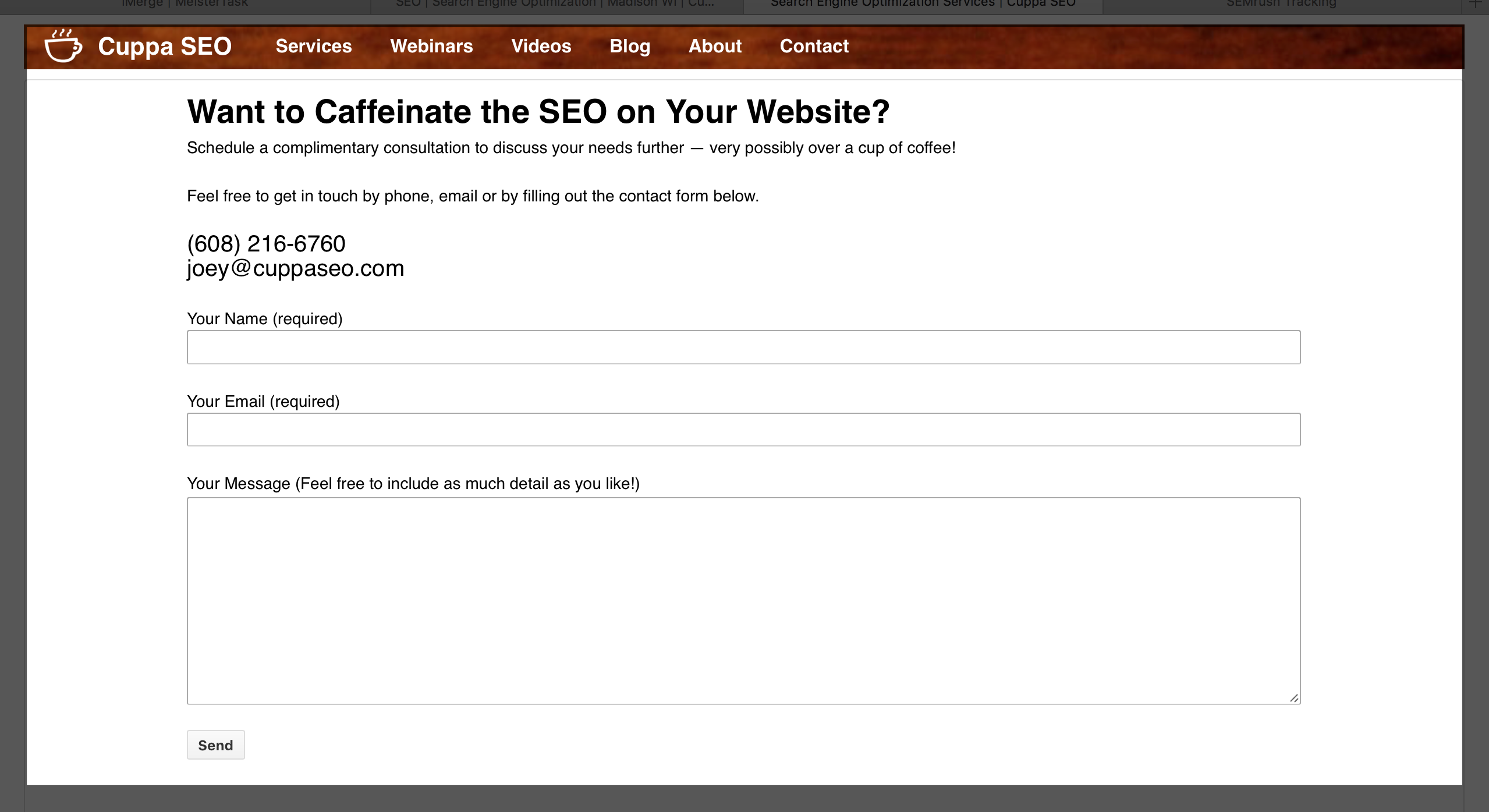 The squeeze page is devoid of any and all non-pertinent information or services. It's an obvious, direct payoff to the CTA from the previous page.
In this distraction-free environment my visitor is presented with the opportunity to get in touch via phone, email or by filling out a SIMPLE form. I've made it easy for them to accomplish the task they set out to do when they clicked on my call-to-action.
One more thing …
When it comes to conversion, always be honest, be real, be trustworthy — and avoid manipulation.