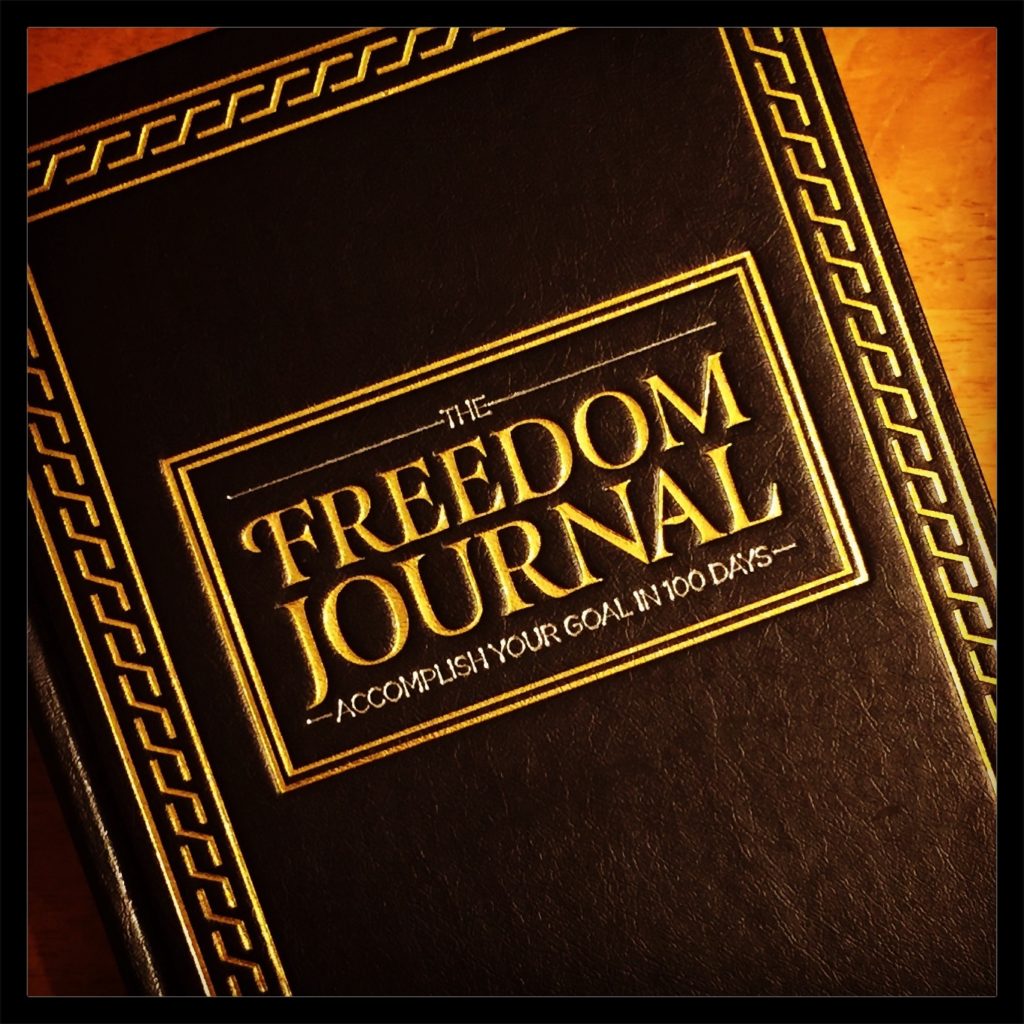 So far, in our Running a Small Business series, we took a look at the Art of Balance, as well as five major facets related to goals:
In our final installment, we're going to be talking about the importance of writing down our goals — the old-fashioned way — with pen (or pencil) and paper.
At first glance, this may seem like an unnecessary step, but writing down your goals can be a very powerful step in accomplishing a goal — in a timely manner.
Enter The Freedom Journal, a goals-centric book by John Lee Dumas, that helps you keep one big goal — front and center — on a daily basis.
Before we go any further, I'd like to mention that I did not receive this book for free, nor was I solicited by the author to review it. I'm including The Freedom Journal in this post because it's something I've been using to write my first full-length book — A Holistic Guide to Online Marketing.
That being said, let's take a look at some of the reasons why writing down goals can be so powerful, and how the structure of The Freedom Journal can exponentiate that power …
Why Writing Down Goals Works
Writing it down makes it tangible. No longer a thought in your head, your goal is physically manifested on paper.

It also makes your goal crystal clear. And if it's not crystal clear, this becomes obvious once you've documented and contemplated the goal. If this is the case, you can do the necessary work to make it clear as a bell. For more on this, be sure to check out the Art of Defining Goals.

It makes you accountable IF you're referring to, and acting upon, your goal on a daily basis. This is where The Freedom Journal can be of assistance …
How The Freedom Journal Works
The journal is exactly what it sounds like — a journal for you to write in. But this isn't just a journal of blank pages. On the contrary, it's full of information that's geared to help you clearly define a single goal, using the S.M.A.R.T. goals methodology (explained in the book), and then work on it daily for 100 days.
The journal is segmented very nicely for goal setting and accomplishment.

For 100 days, it gives you a page to document your goals first thing in the morning, and a page to recap how things went before your go to bed.

To help you accomplish your 100-day goal, the book is also broken down into 10-day sprints, and quarterly reviews to help you accomplish smaller goals, which are all stepping stones to your reaching your big goal on time.

Going back to what I mentioned earlier about accountability, The Freedom Journal helps you stay accountable for your goal because you're checking in on the goal EVERY DAY.

This also helps you remain MINDFUL of your goal. In fact, it's impossible to be anything BUT mindful about it. It's top of mind, which means it's much more likely you are going to take action on your goal daily!
I've set up my journal in a way that allows me to succeed — making the book the 1st project I work on every day. And even though I'm a goals guy, writing my book consistently was an ongoing struggle until I started using the journal. I simply needed a tool to help me stay mindful and accountable of my goal — instead of getting caught up in the minutia of the day.
As you might have guessed, I've found The Freedom Journal to be easy to use, and very effective. 
The only thing I needed to accomplish outside of the journal was to create a detailed description of my S.M.A.R.T. goal.
I hope this post helps you get in the habit of writing down your goals and working on them every day!
Check out the other installments of the series:
For more info on The Freedom Journal, check out TheFreedomJournal.com.