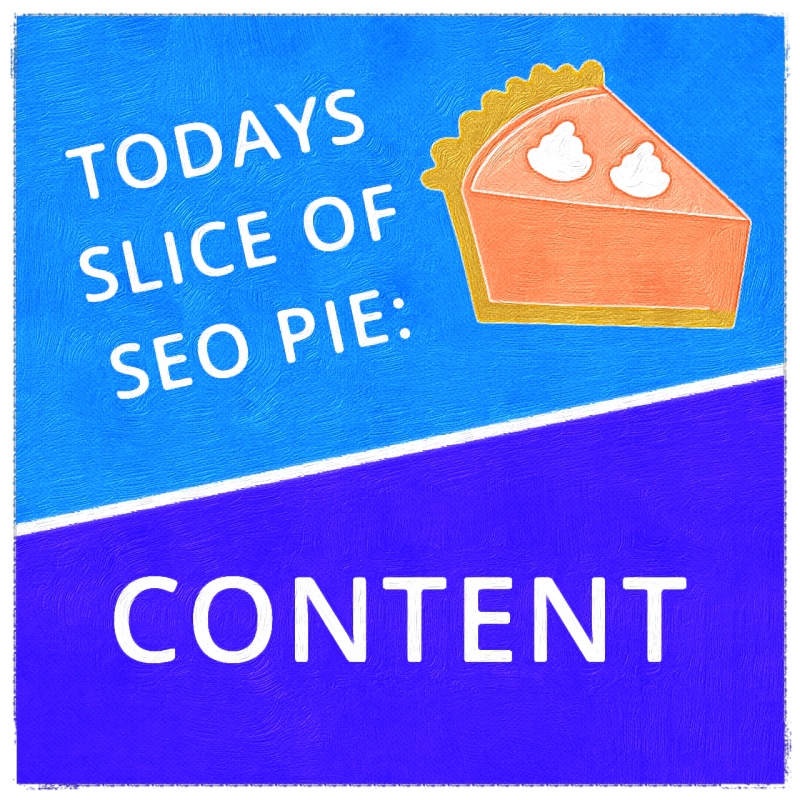 In part 2 of our SEO Pie series, we'll be talking about content.
The following is an excerpt from, A Holistic Guide to Online Marketing, ch. 1, pp. 14 …
In plain terms, content is the copy (words) and imagery found on your website and blog. And, when it comes to content and SEO, there are two important factors to keep in mind.
The Relevance Factor
Just like a human, Google is judging your content and determining whether it's rich and relevant or boring and "thin." Rich, relevant content helps each of your web pages and blog posts gain more authority in Google's eyes, which means ranking higher in search results. It also increases credibility and engagement with actual people, too.
Thin content accomplishes the opposite, and it might lead your website or blog toward what I call the "black hole of Google Panda" — never to be found in organic search results. The good news is that if you take the time to create quality content, your site is already partially optimized!
The Freshness Factor
Freshness is an important factor in how well your website ranks in natural search results on Google. But where you add that fresh content to your site is just as important as how rich, relevant and useful it is.
Many novice SEO practitioners will tell you that the best way to inject new content into your site is to "freshen up" your homepage and subpages with new copy and keywords — sometimes on a monthly basis.
Taking this approach on a well-optimized site will most likely backfire.
Why? Because once your site is well optimized, changing the SEO on your homepage or subpages is similar to changing your phone number every month: It makes no sense. Just as your customers depend on your phone number as a means to reach you, Google is depending on your optimized content to find you and connect you with individuals who need you. Once you change the SEO on a page, the result can often be going back to square one — losing some or all of your page authority (credibility) with Google.
In other words, unless something changes — like a service or product — or one of your pages starts to perform poorly, you'll want to leave well-optimized content alone on your home page and subpages.
So, if you need fresh content, where does it come from?
Fresh Content Comes from Your Blog
Use that blog of yours (like I'm doing right now) to generate the fresh content Google — and your viewers — are looking for. Adding a minimum of one blog post per week can do wonders for your "freshness factor." Why? Because every time you publish a blog post, Google notices and gives your website credit for having some new, fresh content.
And, by the way, each blog post is excellent fodder for your social media efforts, too. Speaking of which, we'll be tackling that topic in part three of this series.
Ready to learn more online marketing tips?
You'll find hundreds of additional ways improve your online marketing in my book, A Holistic Guide to Online Marketing …