Are you aware of Google's latest mobile-friendly update that rolled out this May?
Essentially, the update magnifies the importance of your website being mobile friendly.
Since it's more important than ever to implement a mobile-friendly web design, let's assess whether or not your website is serving you well with these five easy tips …
View Your Site on a Mobile Device
How does it look? Like the image on the left (non-mobile friendly), or the image on the right (mobile friendly)?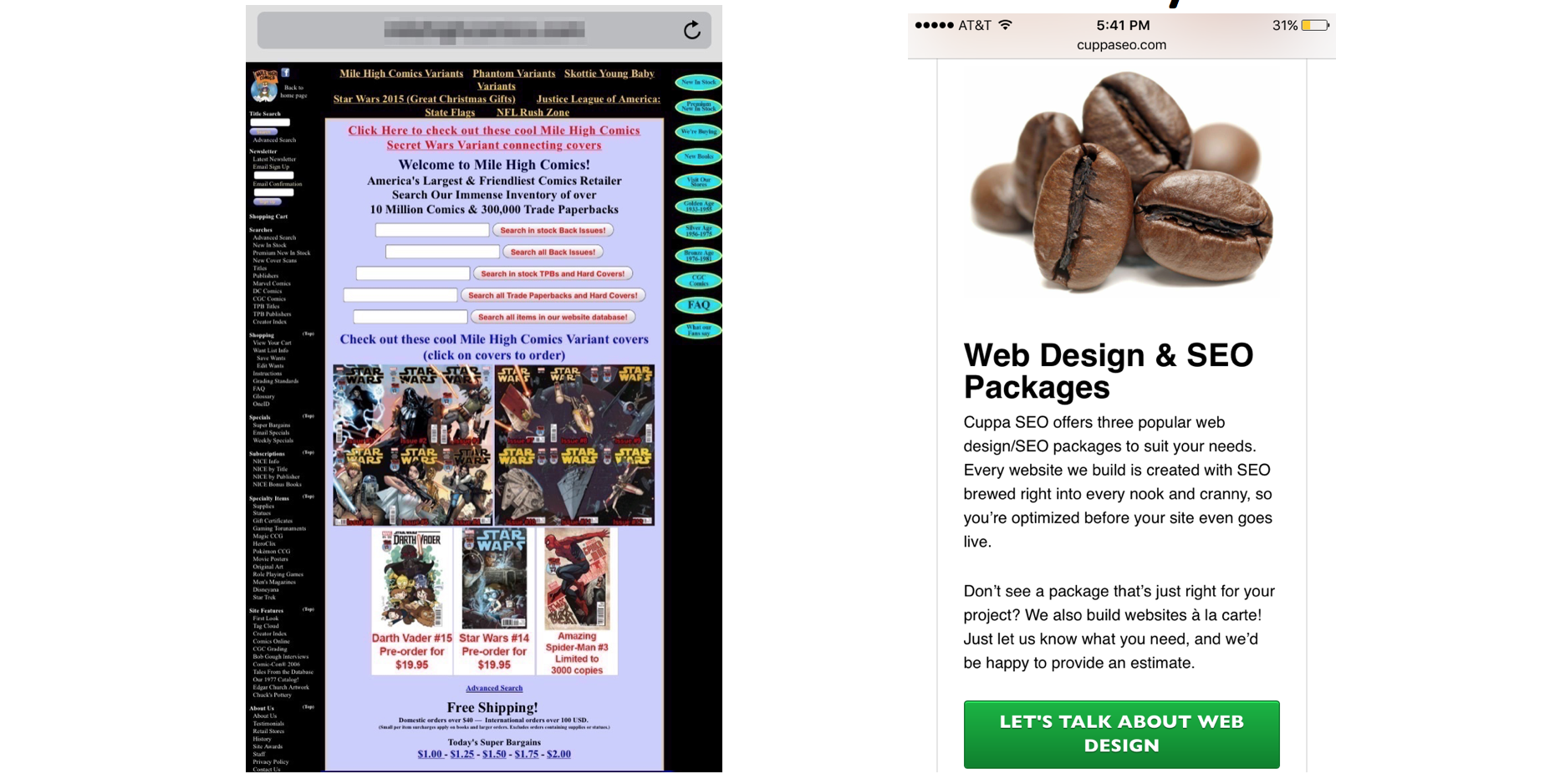 The Google Mobile-friendly Test
This visual assessment mentioned above is probably enough to know whether you're mobile friendly or not. But why leave anything to chance when you can do a 30-second Mobile-friendly Test? To make sure your web design is meeting Google's standards, simply go to their mobile-friendly test site. Once there, enter your full homepage URL (web address) to test. Once that test is completed, you should also run a subpage URL through the test as well. Google will tell you if you've passed or flunked.
Bonus Note: Even if your site DOES pass Google's test, ask yourself if your web design offers a good user experience (UX) for your visitors, and if it has a clear call-to-action (CTA) that leads those visitors to the next step you want them to take.
What's Your Traffic Like Now?
Up until now, has your site's traffic been good? Being aware of how much traffic you're getting now will make it easy to spot if it takes a dip because of the latest update. If it's never been good, there may be other problems contributing to the issue including thin content or poor SEO.
Are you Depending on Your Website for More Business?
If so, what percentage? The reason I ask this is simple. If you DO depend on your website to gain business — it's imperative you make it mobile friendly ASAP. Why? Because Google is making it harder and harder for non-mobile-friendly sites to get found.
If you DON'T depend on your website for business, then it may not be as imperative to make it mobile friendly.
Talk with Your Web Designer
Ask them what it will take to make your site mobile friendly. And ask them what you can expect from the mobile aesthetic once it is mobile friendly. 
Talk with Cuppa SEO
If you don't have a web designer, feel free to contact Cuppa SEO to discuss your website. The initial consultation is complimentary, and there are not strings attached.
One final note …
Mobile-friendly web design is often more than simply making a site responsive (so it's adjustable to any screen size). It's also about ensuring that the hierarchy of the mobile pages makes sense for a good user experience AND conversion. This is exactly how we address every website we work on at Cuppa SEO.