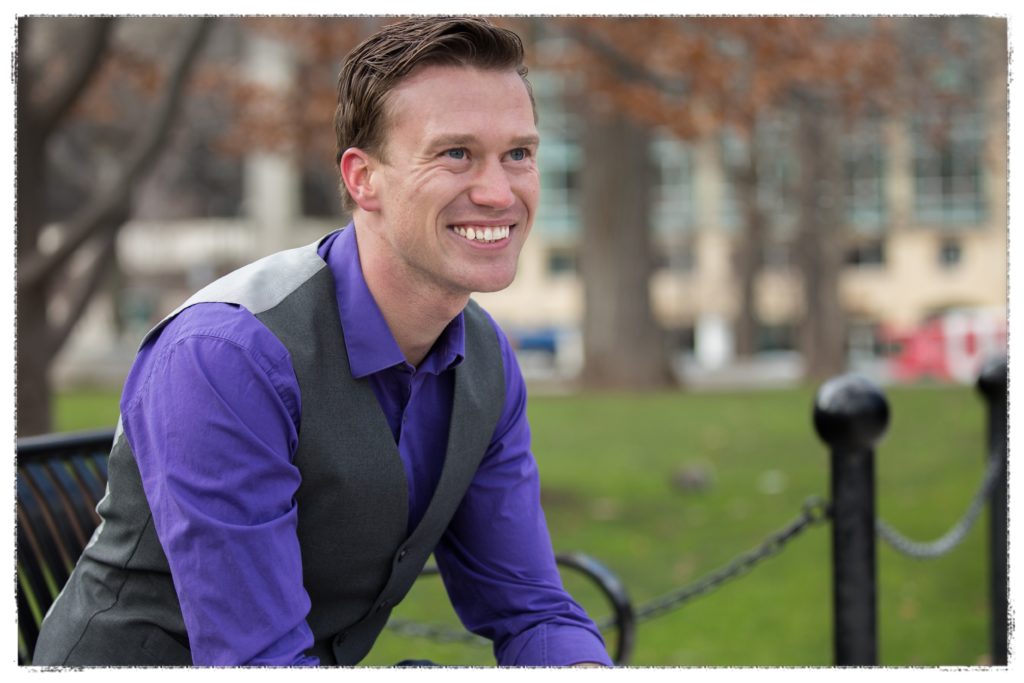 In addition to our Customer Spotlight series, we've started a Small Business Spotlight series that highlights businesses that stand out from the  crowd for their excellent service, products — and all-around awesomeness.
As you may have guessed Your Podcast Guru, owned by Nick Palkowski, is now of those businesses.
I recently sat down with Nick over a cup of coffee, and asked him a few questions to help gain an understanding of his business and how it works …
1. Who Are You?
I first started listening to podcasts way back in 2006 or 2007. This was back when you used to connect your MP3 player directly to your computer in order to download your podcast episodes from iTunes.
But I loved listening to them. As a freshmen in college I would listen to them all the time … while working out … walking to class … in class sometimes.
While my obsession with the spoken word stayed with me, it wasn't until years later that I decided to try my hand at launching my own show.
That first show was a way to market my business as a high school and college leadership speaker. And it worked … REALLY well.
And I found that I really enjoyed podcasting and marketing … even more than I enjoyed speaking. With that realization I convinced a speaker friend of mine to let me run a podcast for him. His podcast, Achieve Your Goals with Hal Elrod (HalElrod.com) took off!
I began receiving emails and phone calls from other speakers asking if I could help them start their own show … and Your Podcast Guru was born! (YourPodcastGuru.com)
Your Podcast Guru has become a business that is designed to help you get your message to your audience in order to increase your impact and income.
It started in May 2014 to help speakers and business owners grow their business by providing a podcasting service that allows our clients to focus on creating amazing content while Your Podcast Guru takes care of all the rest.
From launching a podcast, to growing your email list, to setting up your sales funnel, we help with the strategy and execution of all the steps you need.
2. What Do You Do?
My focus is to help people make an impact and income by sharing their message. Mostly this means helping them create and run a podcast. A podcast that lets them share their passion and expertise to grow an audience of fans who turn into customers.
It's about adding value to your audience, building trust, and offering them a way to take that relationship you're both developing to the next level … becoming a client of yours.
We have a done-for-you podcasting service that frees our clients up to focus on what they do best — creating amazing content, while we take care of the rest.
The editing, the equipment, the launch strategy, and branding is all handled for you. We even provide regular coaching on the content creation and funnel creation.
And of course I run a podcast about podcasting — The Power of Podcasting.
A new venture for me is Live Action Production, which helps businesses create live streaming shows and events. It has been extremely fun adding the visual element to the storytelling we do through podcasting.
My podcasting and live streaming businesses were born out of a love of tech and storytelling. That passion lives on in these service businesses but also in my favorite hobby… running Downtown Madison Life.
This show shares the stories of the businesses and people who make Madison, WI an amazing place to live and work. DowntownMadisonLife.com
3. Why Do You Love Doing It?
I strongly believe that the best way to grow your business is to consistently add value to your audience.
That's why I love what I do. Being able to help business owners create a stronger connection with their audience AND grow their business all while helping improve their audiences lives … what better feeling could their be?!?
4. How Does it Help People?
Our business helps with the strategy and execution around content production. We help give the business owner their time back while still providing incredible value to their audience.
Our team are experts in podcasting and live streaming. By taking away the production and behind-the-scenes headaches of podcasting and live streaming we allow our clients to focus on their highest level skill — teaching — while we take care of the rest.
Thanks for sharing your story with us Nick!
Want to learn more about Your Podcast Guru? Check it out here.
If you know of an outstanding small business you'd like to see highlighted here, drop Cuppa SEO a note with some details.