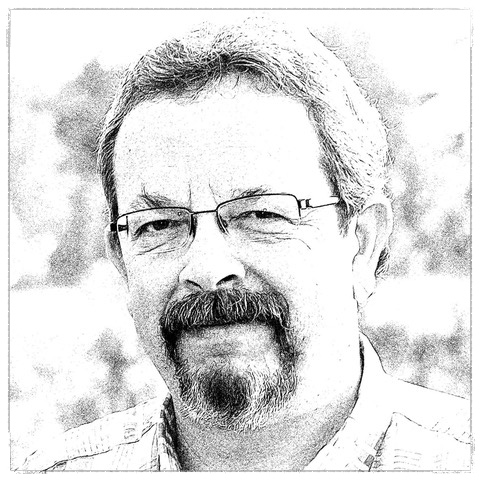 In this installment of our Small Business Spotlight series, we'll be highlighting Gary Varner, the owner of Notegeist, an online stationery shop of curated and eclectic stationery accessories, paper, and tools.
One of the things that impressed me about Gary is the amount of knowledge in his brain about stationary-centric stuff, and his generosity in sharing this information without ever trying to "sell" somebody. He's also pretty generous about including surprises in his shipments.
As I've mentioned before, during this pandemic it's important to find HEALTHY ways to cope, and meaningful ways to help small businesses survive. This article (hopefully) does both.
That said, in case you're not familiar, our spotlight series always highlights an amazing small business that stands out from the crowd for their excellent service, products — and all-around awesomeness.
Let's find out a little more about Gary and Notegeist …
1. Who are you?
Hmmm…such a deep, existential question to convey in such a small space! But for your readers, I am Gary Varner and I live in Ann Arbor, Michigan. Most days I split time between writing and running the online stationery shop, Notegeist, when I'm not off hiking or sketching out in the wild. My career evolved through creative endeavors from architecture and graphic design phases, and finally into communications via media and print. For the last 12 years of the day job, I was a corporate communication specialist for a Fortune 50 energy company based in Ohio.
After retiring at the end of 2018, I chose the classic American escape option: sold my house, downsized into a small storage space, then bought an RV and spent a year wandering the back roads and exploring nature across America. I wrote about and shared images of those adventures in a travel blog you can find here. I've been in Ann Arbor since late 2019, when I relaunched Notegeist.
2. What Do You Do?
During the last few years of corporate life, I started the first version, Notegeist 1.0 if you will, on a whim. That lasted about a year when I realized doing an online shop on top of a demanding, professional day job was too much. So I reimagined the shop into a virtual pop-up stationery store model and renamed it Papernery. The idea there began as featuring only 12 different items as any time, mostly gathered across the globe or at estate sales, etc. Unfortunately, that also morphed into a full-load shop and after about a year of the same too-much-to-do result, I closed it down.
Since post-retirement and more time on my hands, I decided the idea of a stationery shop might work better. Hoping to provide joy and pleasure to other stationery nuts, and keep it reigned in to a controllable level, the shop follows a similar approach of offering interesting and hard-to-find goods at reasonable prices.
3. Why Do You Love Doing It?
As far back as I can remember, I've loved paper and writing tools, plus all those other curious objects and gadgets that fall loosely into the stationery category. During my time as an architect and throughout the other creative avenues across my career, I continued using good stationery materials to make doing the work much more enjoyable.
But beyond all that, I enjoy finding and sharing cool stationery things I use myself or discover in my constant seeking and awareness of what's out there, both vintage, current, and coming goodies. My shop is a business, but honestly, it's more a labor of love as they say, and definitely more avocation than vocation.
4. How Does It Help People?
Everyone who gets into stationery typically starts with the basic paper and pencil brands, utilitarian tools but not necessarily nice to use. Those of us who live deep in the stationery world know the benefits and increased enjoyment from a pencil with a great core, or paper that our favorite pencil or pen glides across. Sharing with others what we've experienced and discovered helps raise their awareness of the quality that's out there, and how that can make a difference in experience and enjoyment.
5. What is it about items like pencils and notebooks that "lead" you to open your own store?
I've been a techie since the early 80s with the appearance of those first personal computers. My skills evolved via developing websites and blogs, into expert levels at Word, PowerPoint, Excel, etc., and I always leveraged technology throughout my career. I embrace digital life as tools that can improve our lives if they're managed well.
But honestly, over the last decade or so, combined with my continued use of analogue stationery tools throughout all that time, I've develop a deeper love and appreciation of unplugging and spending more time with simple paper and pencil, or a fine fountain pen in a favorite journal. That healthy shift of integrating more analogue ways and unplugging digitally is something I believe more people should do. Thus, my efforts to showcase these wonderful analogue tools via my shop to others, is one way I can help spread that message.
That reason plus having amassed way too much stationery stuff and needing to share with others led to the first shop back in 2014. Since I have a process-oriented mind, I also enjoy the mechanics of a shop and the process of order fulfillment and shipping.
6. What's your favorite notebook of all time? Favorite pencil?
That's like asking a parent "who's your favorite kid!" A question that's nearly impossible to answer. I use seven different notebooks/journals consistently for distinct tasks. But the more serious of the work occurs either within my primary daily journal, an A5, Tomoe River Nanami Paper Writer journal while using fountain pens, or my travel/work journals. Those are both Blackwing Slates, beloved by me because the paper works well with any kind of writing tool and I love the slightly different size (5.5 x 7.5) of these hardbound journals.
Tool-wise, while I admit to carrying a Rhodia mechanical pencil in my shirt pocket for whenever/wherever noting, I'm a devout Blackwing pencil fan, and rarely use any other. As mentioned, fountain pens get equal time, my top three favorites being my new Nakaya (swoon), a Diplomat Aero with an architect's nib grind, and several Franklin-Christoph pocket 66s so I can enjoy a variety of ink colors.
—-
If you'd like to get to know Notegeist better, or buy some cool stuff from them*, feel free to check out Gary's website.
(*Note: Cuppa SEO is not an affiliate of Notegeist, and receives no compensation for this article or for any purchases made on their website — we're just big fans!)
You can also check out Gary's stationary review blog Ink & Core, and other interesting bits on his blog, and at Medium. Gary's also on Instagram @inkmuser and Twitter @GaryLVarner.
Want more tips and insights from Cuppa SEO?