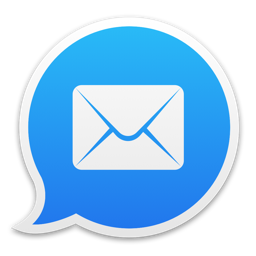 As a small business owner, I'm always on the lookout for apps that make my workflow more productive, efficient and enjoyable.
I've got some pretty strict contingencies, though, as every app has to have an excellent user experience and a beautiful aesthetic.
In this installment of the Transformative Apps series, I'd like to introduce you to Unibox, an email app that works very differently than any other out there.
PLATFORMS
Unibox is built for iPhone, iPad and Mac.
PRICING
Mac version: $9.99 USD
iPhone and iPad version: $4.99 USD
WHY IT'S A TRANSFORMATIVE SMALL BUSINESS APP
The premise of Unibox is "all emails are grouped by person. This means that every person appears only once in the main inbox list. The list is sorted by the latest email from or to the respective person."
What's great about this is that it groups together ALL of your emails from a particular person (or client) so they're all in one place, with the latest email from each person appearing at the top of the queue. This includes messages they've sent you AND messages you've sent them — hence the name Unibox: one "box" that replaces your inbox and outbox.
This alleviates the need to search through your email for a specific message you received or sent from eight weeks ago. It's all right there, in date order for you to locate. Even better, you can list out your emails by the actual message thread, or you can list out all of the attachments (sent to or received from a particular person) in two ways, by list or by thumbnails.
Examples of attachments as as list, or as thumbnails: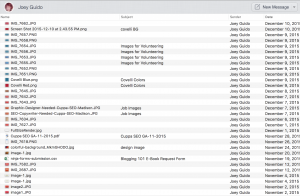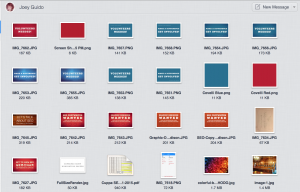 I've been working with Unibox for Mac since the fall of 2014, and signed up for the iOS (iPhone and iPad) version the day it was available, and I've never looked back.
Unibox saves me time when I'm looking for client emails or a file that is associated with a particular project. Both the Mac and the iOS versions have a trial or free version you can check out to see if Unibox is for you.
Cuppa SEO is not an affiliate of Unibox, and receives no compensation for publicizing this app. It's simply something I love using because it has incredible value to my business — and my sanity.
To learn more about Unibox, visit their site at Unibox.com.
Thanks for visiting Cuppa SEO! Be on the lookout for more Transformative Apps for Small Business articles in the future.